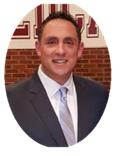 Mr. Giovanni Giancaspro, Superintendent of Schools
E-mail - ggiancaspro@erboe.net
Dear Parents/Guardians and Staff:
I would like to introduce myself as the newly appointed Superintendent of Schools of the East Rutherford School District. I am honored to join the East Rutherford School District and am excited to be part of a district which is strong in its core values of education and that embraces the ideas of the 21st century. For the past five years, I was the Principal of the High Mountain Middle School and Memorial Elementary School in North Haledon, New Jersey, a school district serving over 700 hundred students in Pre-K through grade eight setting. During my time as Principal, I oversaw the implementation of reading and writing workshop based curricula, new standard-based report cards, heterogeneous grouping of students that supports the differentiation of instruction as well as many other educational initiatives. I have worked closely with members of the parent-teacher organization and the district's education foundation on events, which provided funding for our students at both the elementary and middle school levels. I have worked with the local police and fire departments regarding student safety in the area of school fire drills, lockdowns, and evacuations. I am confident that all of these experiences will enable me to further support and enhance the East Rutherford School District schools.
My instructional experience is one that has supported a differentiated approach that embraces multi-sensory learning and supports a student's individual learning style. As a father of two children, a background in K-8 education, and Master's degree in special education, I have a full understanding of how important an outstanding education is to parents. This is why I am committed to academic excellence not only as an educator and administrator, but also as an involved parent. I am confident that all of these experiences will enable me to further support and enhance the East Rutherford School District.
A driving force for me has always been the act of connecting with students and guiding them to become aware and responsible for their academic and behavioral choices. The opportunity to impact so many students at the K-8 educational level is my motivation. A key thread of my administrative philosophy stems from the value and importance of character and citizenship. Although I have many goals, a main focus will be to celebrate the students of both McKenzie and Faust Schools for their academic, extracurricular, and behavioral successes. This includes promoting good decision-making and the ideas of recognizing all of the good things that students are doing.
It is my belief that all students can learn, given a positive learning environment that welcomes exploration, problem-solving, critical-thinking, and enhances student confidence and achievement. A child's development follows individual patterns and timing; they also vary in temperament, personality, and aptitudes, as well as in what they learn in their family and within the social and cultural context or contexts that shape their experiences. Having high and clear expectations for our students are essential while responding to each student as an individual. This is fundamental in developing independent, productive, life-long learners that embrace the challenges of the 21st century.
I look forward to building strong parent and community partnerships, which are essential to foster student success. As I transition to this next chapter of my educational career, I look forward to working with many community stakeholders, my fellow district administrators, the teaching staff, the parent community and most importantly, the students of both McKenzie and Faust Schools. I understand and embrace the excitement and challenges that lie ahead for the 2016-2017 school year. It will also be vital that I collaborate with the staff of our schools to continuously provide students and staff with the tools and resources to be successful. As an instructional leader in a professional learning community, whose sole purpose is to promote student-centered learning and achievement, I am committed to continuing to prepare our students for the complex world of tomorrow and in making the East Rutherford School District one of the best school districts in the state.
I look forward to being a part of the East Rutherford School District administrative team and effectively contributing to the overall safety, academic program, climate, and sense of community of both amazing schools.
Sincerely,
Giovanni A. Giancaspro
Superintendent of Schools